The Smoking Guns of Blackwater's Mercenaries
So today the world has a view into the lives of
five of the innocent people gunned down by Blackwater's mercenaries
in Baghdad's Nisoor Square on September 16th. Construction workers had just finished painting flowers on the walls of the square following reconstruction after a truck bombing. A banner reading "Creators of Life are Always Victorious" fluttered in the noon breeze. Ali Khalil was a 54-year-old blacksmith and father of six children, and had felt safe enough in the capital to reopen his shop three days earlier. Osama Fadhil Abbas was a 40-year-old car dealer on business. Mehasin Muhsin Kadhum, a 46-year-old doctor, and her twenty-year-old son Ahmed Haitham, were returning home with college application forms for Kadhum's daughter. At 25, Mahdi Sahib supported his whole ten member family on his taxi driver's salary of $480 a month, and while he could not replace the broken windshield wipers of his taxi, continued to nurse the hope that he would one day save enough money to marry. Fifteen minutes later, as Blackwater sped away from the smoking scene, their murdered victims would range from grandfathers to wives to schoolgirls to an infant.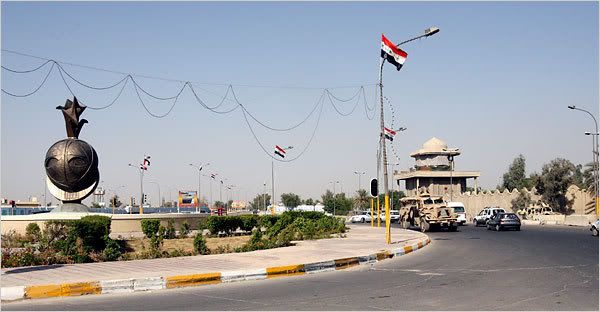 On that day, the Blackwater convoy was responding to a bombing near a State Department convoy about a mile away. As the Blackwater armored vehicles entered the square, a heavily guarded area near Baghdad's affluent Mansour neighborhood, Iraqi police officers moved to stop traffic.

Kadhum, the doctor, and her son Haitham, who were in the flow of cars the officers were trying to stop, didn't react quickly enough. A Blackwater guard fired, striking Haitham as he sat in the driver's seat, three witnesses said.

"The bullet went through the windshield and split his head open," recalled traffic police officer Sarhan Thiab. "His mother was holding him, screaming for help."

The car, which had an automatic transmission, kept rolling. Another officer, Ali Khalaf, tried to stop the vehicle as another spray of bullets killed Kadhum.

Thiab fled first, then Khalaf, followed by bullets that struck a traffic light pole, a billboard and their police guard post. Then the Blackwater guards escalated their firepower, engulfing the sedan in flames.
Osama died trying to flee from his truck when Blackwater turned their guns on it next. Khalil died within minutes of being brought to the hospital; when his wife arrived with bed sheets and water, she was sent to the morgue. Sahib died slowly over three hours from internal bleeding, while family members held his hands. The uncle of twenty-year-old Ahmed Haitham, had rushed to aid the shooting victims, and come upon Ahmed's and his mother's burned bodies in the hospital. He called Ahmed's father, who rushed to the Square, only to find the family's charred car missing it's license plate, but the number written next to it in the sand. Later in the hospital, Haitham Ahmed was able to recognize the bodies of his family by his wife's dental work and one of his son's shoes.
On the cab roof of Osama's white Volkswagon truck are bullet entry holes, with trajectories that indicate they came from fire from above. Although witnesses testify that Blackwater mercenaries fired out of their helicopters as people tried to flee for their lives, the company has denied this claim. Dr. Kadhum's white car still sits in Nisoor Square, and Haitham Ahmed is determined to see it remains there until there is justice for the deaths of his wife and son. Iraq's government has not responded to his inquiries.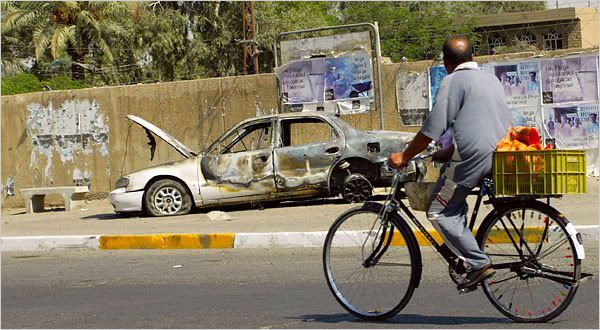 "They have killed my beloveds. They were innocent," he lamented on Wednesday. "We don't have any contacts with any party, any side. We are all doctors."

"What I want is the law to prevail," he added. "I hope that this act will not go without punishment."

There were opportunities, he said, for his family to flee Iraq. But he and his wife believed in the promise of a new Iraq. "I feel pain when I see doctors leaving Iraq," he said.

His son was going to follow in his footsteps. In his third year of medical school, the soccer-loving, multilingual Ahmed planned to become a surgeon.

Now, he said, his two other children, Mariam, 18, and Haidar, 16, are concerned about his safety. "Enough of the pain, enough of death in Iraq."

Mariam was born in the last phases of the Iran-Iraq conflict. Her eyes filling with tears, she said she wanted to leave: "I was born in one war, I don't want to die in another."
Original plans for the FBI's investigation included
Blackwater guards
. It took a release to the press about these plans and pressure from Congress, and 24 hours, for the State Department to think it was wise to alter these arrangements so that the department's
Diplomatic Security Services
would be assigned to that task. The White House is meanwhile denouncing
legislation passed by the House
which would apply all regulations currently used to provide oversight and federal jurisdiction over Defense Department war contractors in Iraq, to those under contract with State, including Blackwater. The law in question is the Military Extraterritorial Jurisdiction Act. The bill passed 389-30. Via the Office of Budget Management is the claim that such equal jurisdiction in contracting would have "intolerable consequences for crucial and necessary national security activities and operations."
Questions continue to emerge on the conduct and operations of Blackwater on that day.
Blackwater
revamped it's website since the shooting, dropping press reports and news briefings, and reducing the publicly available information about it's company. However, you can still buy company apparel.
The State Department's intial report on the Sept. 16th incident was written by a current Blackwater employee.
Secretary of State Condollezza Rice exerted pressure on the Iraqi government to allow Blackwater to remain inside Iraq, creating the public perception that the government of Iraq cannot act with autonomy. Even the officials Blackwater guarded on September 16th highlight the need for impartial investigations:
A bomb exploded on the median of a road a few hundred yards away from the meeting, causing no injuries to the Americans, but prompting a fateful decision to evacuate. One American official who knew about the meeting cast doubt on the decision to move the diplomats out of a secure compound.

"It raises the first question of why didn't they just stay in place, since they are safe in the compound," the official said. "Usually the concept would be, if an I.E.D. detonates in the street, you would wait 15 to 30 minutes, until things calmed down," he said, using the abbreviation for improvised explosive device.

But instead of waiting, a Blackwater convoy began carrying the diplomats south, toward the Green Zone. Because their route would pass through Nisour Square, another convoy drove there to block traffic and ensure that the diplomats would be able to pass.
CNN interviewed one of the Iraqi Police stationed at the Square, who stated that
Blackwater threw water bottles at the police
upon entering the Square and then proceeded to drive the wrong way around. The police officer Sarhan noticed that the guards looked nervous. When the traffic didn't immediately halt, the mercenaries opened fire with warning shots, and then began shooting vehicles. When Sarhan attempted to rescue Kadhum, after her son was shot dead in the driver's seat, he and another police officer were unable to halt the rolling car. Even in uniform, he too became a target:
"I wanted to get his mother out, but could not because she was holding her son tight and did not want to let him go," Sarhan said. "They immediately opened heavy fire at us."

"Each of their four vehicles opened heavy fire in all directions, they shot and killed everyone in cars facing them and people standing on the street," Sarhan said.

The shooting lasted about 20 minutes, he said.

"When it was over we were looking around and about 15 cars had been destroyed, the bodies of the killed were strewn on the pavements and road."

Sarhan said no one ever fired at the Blackwater team.

"They became the terrorists, not attacked by the terrorists," he said.

"I saw parts of the woman's head flying in front of me, blow up and then her entire body was charred," he said. "What do you expect my reaction to be? Are they protecting the country? No. If I had a weapon I would have shot at them."
War is ugly, that much is true. But this was not war, this was murder, done by a company operating for profit committing acts of barbarity for which our own uniformed soldiers will face an accounting for on the streets of Baghdad. For how much longer will we tolerate having a military and a foreign policy held hostage to the profit margins of neoconservatives, who would see the power to make war and peace shifted to an auction? How does having the readiness of our forces undermined to create overpaid positions for at-will war contractors further American security? What does it say about the future of democracy as a government about humans that we allow senseless bloodshed for the mere sake of convenience? Who should be held accountable for the descent of the "war of the willing" into the "war of the billing?" How long will the burned out car of a woman doctor sit on the side of the road?
Technorati Tags:
Blackwater, war contractors, Iraq war, current events, politics, moonbat, liberal
Labels: Blackwater, Congress, democracy, injustice, Iraq, neo-cons, war on terror