Vote Edwards in Democracy for America Poll!!
So today Republicans refused to vote for
SCHIP
on Capital Hill. A moment to reflect. Republicans sided with Bush even though he and their party pundits waged a horrible campaign full of deliberate misinformation, lies, and the slandering of a 12 year-old-boy and his family. Edwards released a statement that is spot on:
Republicans should be made to pay a price at the polls
.
Edwards dropped by the WaPost today to answer live questions from a few of the commentators there. He answered questions about health care and the No Child Left Behind Act, and about the excessive hype placed on standardized testing. As he points out:
"You don't make a hog fatter by weighing' it."
I was pleased to see he had a ready answer for the likelihood that Republicans will campaign on tax cuts next year, despite the fact that Bush put us $9 trillion in the hole. Edwards went on to say he will point out to voters that Republicans mean to lower taxes on wealthy people, while Democrats lower taxes on working people. "If you believe we should finally value work, and not just wealth in America, you should vote for me."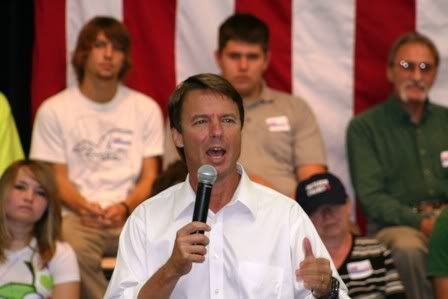 In Iowa, the Edwards campaign announced today the formation of a
Statewide Rural Advisory Committee
, a wide group of leaders including first responders, business leaders, elected officials and agricultural leaders. One of it's most recognizable members is Denise O'Brien, an organic farmer and the founder of the Women, Food and Agriculture Network, was the Democratic nominee for secretary of agriculture last year. Earlier this month, Edwards was
endorsed
by Iowa's Monroe County Supervisor Denny Ryan. Representing rural interests played a part in more
more key endorsements from the Georgian Democratic Party
, including the former Governor.
The importance of rural voter outreach extends to more than just the presidential caucus, as MyDD points out, as Democratic votes increased in rural counties in both 2004 and 2006. "That was a big change from the 1990s, when rural voters swung significantly against the Democratic Party. I believe that John Edwards would be by far the best candidate in our field to continue this trend, which would hurt the GOP badly. I urge you to consider this: the presidential election is more than 50 statewide elections. It also coincides with 435 House races and thousands of races for the state legislature." Out of the states come our national leaders and our next presidential candidates.
Edwards also signed the
Presidential Pledge to expand Americorps
to expand service positions by
100,000
. Speaking before the International Association of Machinists and Aerospace Workers, Edwards spoke about the need to return the production of our military's equipment to American soil, a point which I strongly support him. Edwards' also proposed a
"Brownie's Law"
which would require that those nominated as political appointees to federal agencies meet the same strict hiring requirements as a civil servant, and that they possess actual work experience for that position.
Another good policy point is that Edwards has proposed
national cancer networks
which would increase funding for cancer research at the National Institutes of Health, include specific research into what chemicals increase the likelihood of cancer, make more widely available home visits from nurses, and also called for an Internet clearinghouse for information about services that are available for families dealing with the disease.
Election data shows what happens when you match up each of the Democratic candidates against the Republicans:
Edwards beats every Republican with a larger margin than either Clinton or Obama
. Edwards is the only Democratic candidate with a significant lead against Republican front runner Rudy Giuliani. Edwards' out performance against Clinton and Obama in match ups with the Republicans are particularly is also significant in the key battleground states of Iowa, Missouri, and Ohio. We all know how important to a Democratic victory are voter margins in Ohio. As for swing voters, Edwards at this point demonstrates the greatest appeal among Democratic candidates to Independents, beating Giuliani by 13%. Obama wins Independents by 5% and Clinton wins them by 3% against Giuliani.
Vote for Edwards in the Democracy for America Poll!!!
Technorati Tags:
John Edwards, Democracy for America, current politics, poverty in america, breast cancer, education
Labels: 2008, Congress, economy, healthcare, John Edwards